All aircraft must do a standard overhead join at 1800 feet above aerodrome level and a full visual circuit before landing, making blind transmissions as appropriate on 130.705, as there may be people on the runway/airfield.
Look out for any non-radio aircraft that may be in the circuit.
Confine all manoeuvering to the mown runways and taxiways.
Only Runway 02/20 is available to visiting aircraft. Please note that all other runways may be in use by resident aircraft and must be kept clear.
Runway 02 is a Right-Hand circuit.
Runway 20 is a Left-Hand circuit.
Circuit Height is 800 feet.
Runway 02 threshold is displaced to a point North of College Road as indicated by displaced threshold markers. Be aware that College Road (a private road), which crosses the airfield, is used by vehicles and pedestrians. Available runway distance between 20 threshold and displaced threshold runway 02 is 521 metres
AIRFIELD STATUS
Runway designators have changed to runway 02/20
RWY 02 THRESHOLD IS DISPLACED AND INDICATED WITH DISPLACED THRESHOLD MARKER.
LANDING AND TAKE OFF DISTANCES REDUCED TO 521M FOR BOTH RWY 02 AND RWY 20 DIRECTIONS.
THE USABLE RUNWAY REMAINS NORTH OF THE UNCONTROLLED PRIVATE ROAD CROSSING WHICH IS USED BY VEHICLES AND PEDESTRIANS.
The area around the fuel pumps has recently had land drains installed. The narrow back-filled trenches that remain may contain softer soil, stone chippings, or undulations until the grass grows back through. If you cross the drains do so with caution.
Parking and Signing in
When you have landed please park clear of ALL the runways (for parking see link to airfield diagram below) and sign in using Booking-in sheet in wooden hut behind the fuel kiosk (mandatory).
A site entrance fee of £10 per aircraft applies and an honesty box provided when signing in. Included in this fee is access to the Swiss Garden, Paddocks, North Park and The Collection Hangars. Shuttleworth has COVID-19 measures in place to keep our visitors and staff as safe as possible – please read before visiting.
The site and airfield is open to visitors from 0900L to 1800L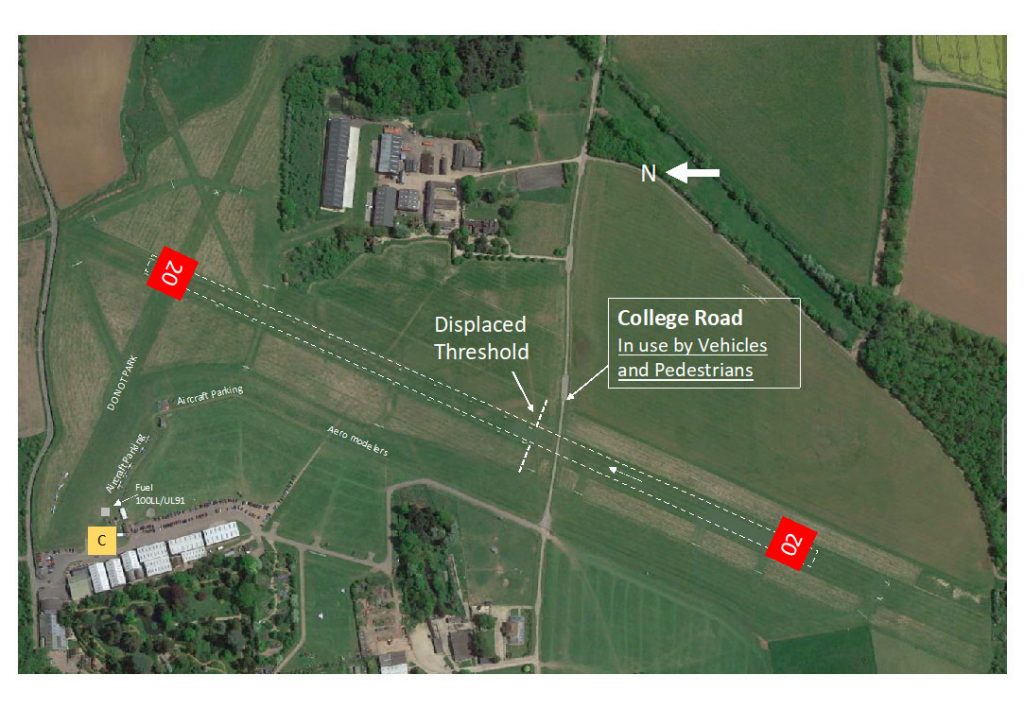 Airfield Facilities
Pay at the pumps, self-service fuel UL91 and 100LL available during site opening hours. The pumps accept all major credit and debit cards.
Current price:
100LL = £1.62 per litre
UL91 = £1.67 per litre
The Visitor Centre, Engineering Hangar, Children's play area and restaurant remain closed. However, there are food and drink outlets on site, the Swiss gardens and acres of beautiful open areas for picnics, relaxation etc. for you to use.
If your journey originates from outside of the UK your GAR reference number will be requested when you PPR. For information on obtaining this please see the 'GAR information' section below.
ADDITIONAL AIRFIELD INFORMATION
The aerodrome is a vintage airshow venue from May-October, please see our 2021 Airshows.
Additional fly-ins and Beer & BBQ events take place throughout the year. If you are interested in hosting a club fly-in, please contact events@shuttleworth.org
For hangarage availability, see our hangarage webpage for more information or email engineers@shuttleworth.org.