Thursday, 7 December 2023:
The airfield is OPEN to visiting aircraft with light wheel loading only (such as Piper Cubs and Tiger Moths) following a period of poor weather. Please note some manoeuvring areas remain slippery and the ground is soft in places, with some areas of standing water and softer muddy patches which should naturally be avoided.  Some of the taxiway hold lines are sunken and should be crossed with great care.
For additional Aerodrome Information and Runway Physical characteristics etc. please refer to the UK AIP Old Warden Aerodrome entry.
The airfield is currently OPEN to visiting aircraft.
Airfield Opening Hours 0600 (or SR-30 whichever is later) to SS+30 for fuel purchase.
All other facilities only available during Visitor attraction opening hrs 1000L to 1600L (1700L Summer).
Shuttleworth (Old Warden) is a private, unlicensed (except for Event days) aerodrome, situated in a rural area. The airfield is not inspected daily, the manoeuvring area is uneven and there can be areas of soft ground, so please exercise caution.
All powered, fixed wing and flex wing GA and microlight types (excluding Paramotors) as well as rotorcraft are welcome.
Airfield Condition:
Confine all movements to the mown areas.
Airfield Activities:
The majority of the time the airfield operates 'unmanned' however, it is monitored and can be quite busy with the following activities regularly taking place:
Model aircraft flying
Vintage & Non-radio aircraft movements, practice displays, aerobatics, formation flights, test flights, etc.
Visitor aircraft and Based aircraft movements
Airfield maintenance
The airfield is only licensed and the radio (A/G or AFISO) manned during Event days, approx. 20 days per year. These are primarily airshows days (approx. 15 days per year between May and October) and Fly-ins.
Note that on Airshow days a Restricted Area (Temporary) RAT will be in force beyond the ATZ, normally up to 3nm and 3500ft.
The airfield is also closed for a number of weekends during the year when model aircraft events are held. PPR will not be available for those days.
Arrival Information:
All visiting Aircraft must have received PPR confirmation by email.
Radio Frequency 130.705 Mhz. When the ATZ is activated make appropriate calls to A/G, Information as required. At all other time when 'unmanned' make blind calls to 'Old Warden Traffic'.
Unless approved by the Air/Ground and/or AFISO Operator (when manned), all aircraft must complete a standard overhead join at 1800 feet above aerodrome level and a full visual circuit before landing, making blind transmissions as appropriate. This is essential to allow you to assess the wind conditions, look out for other aircraft in the circuit, to allow model aircraft to land safely and so you can look carefully for aircraft carrying out Displays practices, airfield maintenance activity etc.
Note: Most of the Collection aircraft operate non-radio. It is a condition of the use of Shuttleworth airfield that all aircraft must give way and stay well clear of any aircraft carrying out Display practices at the airfield.
Non-radio aircraft are permitted but must be extra vigilant especially when approaching the overhead as dynamic practice displays and aerobatics may be being performed in the overhead.
Circuits and Runways in use:
Only the main runway 02/20 is available to visiting aircraft however all runways and airfield surfaces may be in use by resident aircraft. When operating 'unmanned', visiting pilots must assess the wind conditions and circuit traffic before making their own mind up as to which runway is appropriate to use. In general, in no wind or 90deg cross wind conditions runway 20 is preferred for landing due to the slight up slope.
All circuits are to the East. LH for Rwy 20 and RH for Rwy 02
Circuit Height is 800ft AGL. However, keep a look out for based vintage aircraft using a tight, oval, circuit at approx. 500ft with a continuous 'finals' turn from the downwind leg to land.
Visiting aircraft are strictly not permitted to carry out multiple/training circuits, touch and go's or multiple flights in and out of the aerodrome without the written permission of the airfield management.
Noise abatement:
We have very good relations with our neighbours so please help us keep it that way. Avoid over flying all villages in the circuit area. As other traffic & pilot/aircraft ability allows, please make either a 'tight' circuit inside the villages to the east of the airfield or a longer circuit around them. Look out for other aircraft on alternative circuits especially when turning finals to land.
Please do not directly overfly the Collection hangars (on the West of the airfield), Swiss Gardens (behind the Collection hangars) or Mansion house when joining the circuit.
Parking & Booking in:
Please park clear off ALL the runways and adjacent to the fence line between the Tower and the Fuel Kiosk or to the south of the Tower (see map below).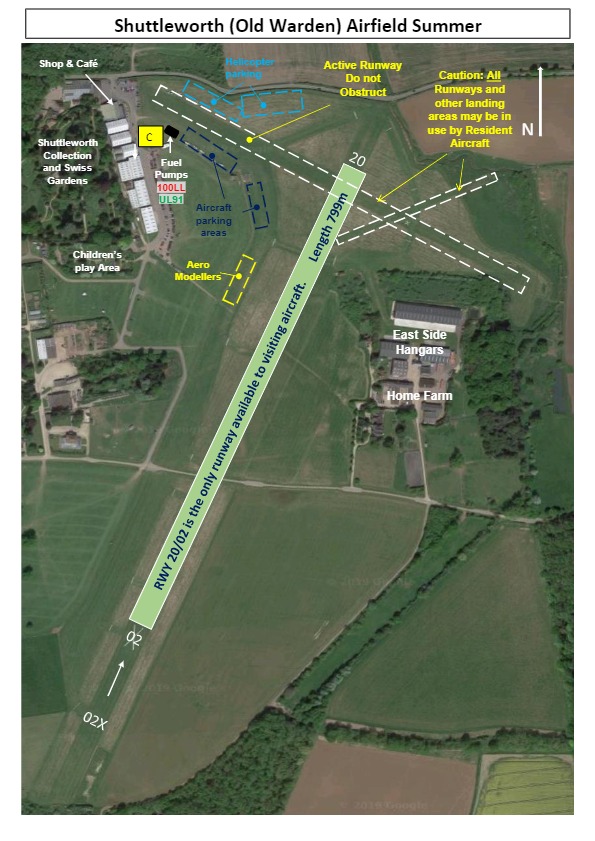 On Event days when the tower is manned please book in and pay your fees at the base of the tower.
On all other days please fill in the movements log in the wooden hut behind the Fuel Kiosk. For the landing fee (£15 for non-members, £10 for S.V.A.S. members), you can place cash in the honesty box in the signing-in shed, in an envelope marked with the registration. Alternatively you can pay contactless in the Gift Shop in The Shuttleworth Collection Visitor Attraction.
Airfield Facilities:
100LL and UL91 fuel is available from our self-service, pay-at-the-pumps fuel kiosk. This takes all major cards and is as simple to use, essentially just the same as forecourt petrol pumps.
Current fuel Price (subject to change without prior warning):
100LL = £2.04 per litre Inc VAT
UL91 =       £2.14 per litre Inc VAT
A step ladder is available in the fuel pump kiosk or the booking in hut for use at your own risk.
Site Facilities & Attractions:
On site is the world famous Shuttleworth Collection of airworthy vintage aircraft and working vehicles, Regency Swiss Garden and the Shuttleworth House – a grade ll* Victorian mansion. Also on-site we have the Woodland and Shrubbery Walks, Summer House and Lakeside Parkland. 60 acres in all!
For children, we have a large play area, trails in the garden and acres of space to run around making it arguably the best family airfield to fly into in the country.
There is an on site Café (with additional seasonal catering pods on busy days and event days) and Gift Shop with plenty of tables and chairs to sit at outside.
The landing fee grants you the pilot free access to The Shuttleworth Collection and Gardens (normal fee is £15.50 per adult, £14.00 for over 60s, free for S.V.A.S. members) on non-event days. Any passengers you bring will however need to pay the entrance fee in the Shop if you have come to visit the attractions.
Overnight Parking:
Overnight parking is available at £15.00 per night, payable in the Shop during normal opening hours, see PPR page for further details.
Note that the airfield is not monitored outside visitor opening hours and the Trust cannot accept any liability for damaged or stolen property. At all times aircraft are parked here at your own risk.
Accommodation:
If you wish to stay overnight with us you can wild camp with your aircraft. If you wish to wild camp on an event weekend such as an airshow please see this link: https://www.shuttleworth.org/wild-camping/
Additionally rooms are available at The Shuttleworth House. For details please visit: Stay at Shuttleworth.
Alternatively we have a self-catering flat at The House for up to 4 guests bookable via AirBnB.
PPR:
PPR (mandatory) through our automated PPR booking system – or use the PPR tab above.